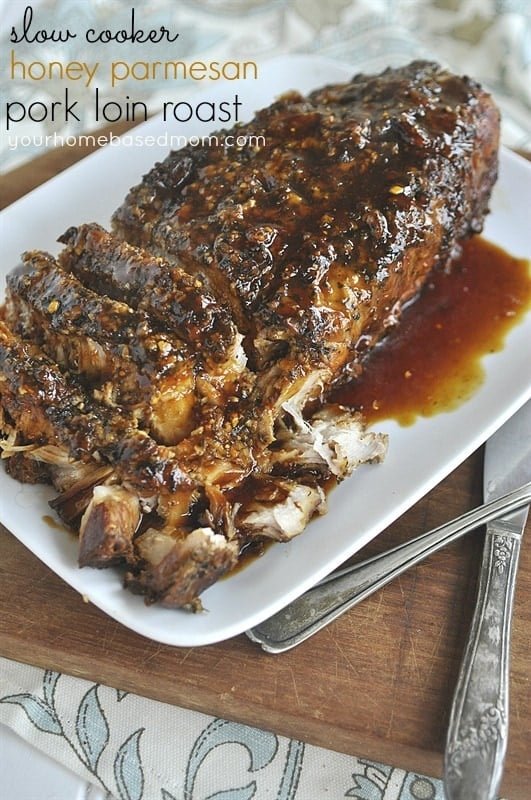 This recipe is amazing! I love cooking pork and this one is easy and so flavorful. I did use a little more soy and a little less honey because I don't like my food to be sweet. I also used beef stock for the glaze instead of chicken. I did not add the sugar. You could probably use a little less cornstarch also. The thing that's great about this one is I have all of these items on-hand - no grocery store trip needed!
It is so tender it doesn't really cut but shreds. It would make a great sandwich as well.
9.1 edit - use a lot less cornstarch (1 tbs)
add some beef stock to the crockpot
Ingredients
1 3-4 lb. boneless pork loin roast
⅔ C grated parmesan cheese
½ C honey
3 Tbsp soy sauce
1 Tbsp dried basil
1 Tbsp dried oregano
2 Tbsp chopped garlic
2 Tbsp olive oil
½ tsp salt
2 Tbs cornstarch
¼ C chicken broth
1 tsp sugar, optional
Instructions
Place roast in slow cooker.
In a bowl combine cheese, honey, soy sauce, basil, oregano, garlic, oil, and salt.
Pour mixture over the top of roast.
Cover and cook on low for 5-6 hours or until thermometer reads 160 degrees.
Remove meat and place on platter.
Strain juices in slow cooker and put into a small sauce pan.
Mix cornstarch and chicken broth together.
Add into strained juices and stir until thickened over medium heat.
Add in a teaspoon of sugar if sauce needs to be a bit sweeter, optional
Slice roast and serve with glaze.